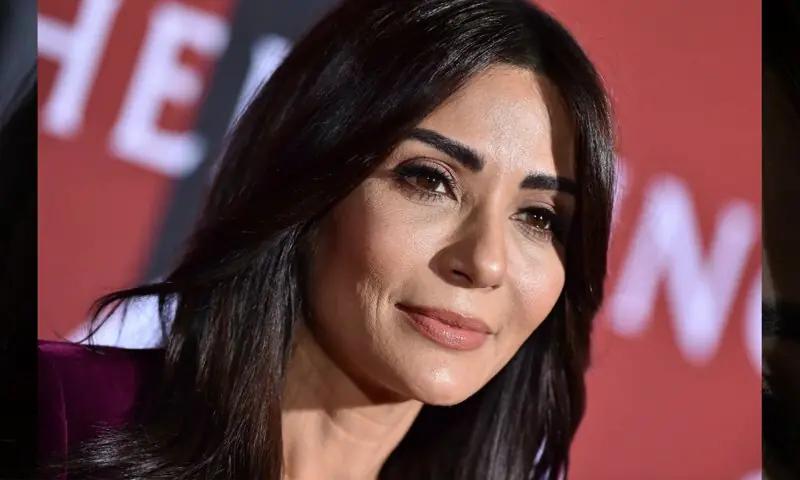 Marisol Nichols talks thriller and stealth
Marisol Nichols is a multi-faceted person – personally, she is the mother of a 13 year old teenage girl. Professionally she is a star of the successful CW series 'Riverdale', she stars in the new thriller 'Spiral' alongside Chris rock and Samuel L. Jackson, which comes out next week.
On top of all this, the 47-year-old has worked undercover alongside the FBI to eliminate sex traffickers and even started her own nonprofit called Foundation for a world without slavery, where she works to eradicate all forms of modern slavery. Nichols' undercover efforts have garnered so much attention that there will be a scripted show about it soon. Talk about a real life superhero!
HELLO ! The United States had the opportunity to chat with Nichols about her experience working on "Riverdale" during her quarantine, what her culture means to her, and the essential details of the work she has done with her organization at goal. non-profit.
How did you cope during this strange time?
All is well. It's surprising, it's obviously heartbreaking everything that's happening on a global scale. It's really scary, scary and full of other emotions at the same time, but I think I kind of made the most of it during that time. I started to be busy, creative and inventive. Like okay what else can I do? I have all of these projects in my back pocket that I wanted to do so I am using this time to do it to the best of my ability and have had the opportunity to spend a lot of time with my daughter and she is now at boarding school. I made the decision to send it since the schools weren't opening anytime soon so I said to myself, it's a year ago on Zoom that's good, let's go. So she went with her best friend and she loves it. Everything is pretty good.
What kind of impact did your culture have on your childhood?
It's funny because growing up in Chicago, my mom didn't speak English very well so she never spoke Spanish to us. My stepfather who raised me was an ordinary white man, so every year we would make the trip to the Texas-Mexico border, where my mother's family was. And that was probably my happiest time growing up because everyone looked like me, everyone could say 'Marisol' and pronounce my name correctly and I got to see cousins ​​over cousins On cousins, the Latinas are great families. It was the only time I got to know my culture and I really cherished it. I think at one point I asked if I could just stay because I didn't want to go home because it was a really warm, caring and passionate culture that I didn't see too much of growing up in. the suburbs of Chicago.
"Riverdale" is one of the most popular shows on TV right now! How was the filming of the show in full quarantine?
I think it's pretty easy for me to do an episode or two in a row in Canada and then come back to LA because I do other projects and stuff that has been great. I think the hardest part is the constant quarantine. I have traveled so much, I think I quarantined more than anyone I know, in total it lasted about 10 weeks in total. I would say that's the hardest part, but it's the selfish part of me. The other part of me is like I'm so happy that we found a way to get everyone back to work because when it all stopped all I could think of was that I'm close to some member of the team. crew, we all have families and people to feed. How does the work work? And I didn't know exactly what Canada was going to do to help. America kind of had a plan, but I'm so glad we were able to find a way to work safely and do what we love. I am grateful for this. We do COVID testing every day, it's really easy and it takes about 30 seconds that way, you track everything and we kind of have a grip on these things.
In addition to "Riverdale", you star in the new thriller "Spiral" which is released this month. What was the experience of making this film?
I'm a huge fan of thrillers, which is ironic because I've never really made any! It was a great fun and entertaining role that I got my teeth into and loved it. I play the police chief, a latina! I mean come on, I love it! Obviously working with Chris [Rock] was phenomenal. I know Chris obviously from his comedy but I've never met him before but I've been a fan of him for at least 20 years. So to see him kind of jump into these more serious roles and take him seriously and care about it at the end of the day, it's an actor to an actor, a performer to a performer wondering how can we we make this scene great? What can we do to make this movie great? This collaboration and working with someone at his level was so awesome. And we laughed and told jokes between takes. Obviously, I was a big fan of Max Minghella because I was obsessed with "Handmaid's Tale" so I was so excited he was in it. And come on King – Samuel L. Jackson, it was hard to keep my cool. I was like wow it's really, really awesome.