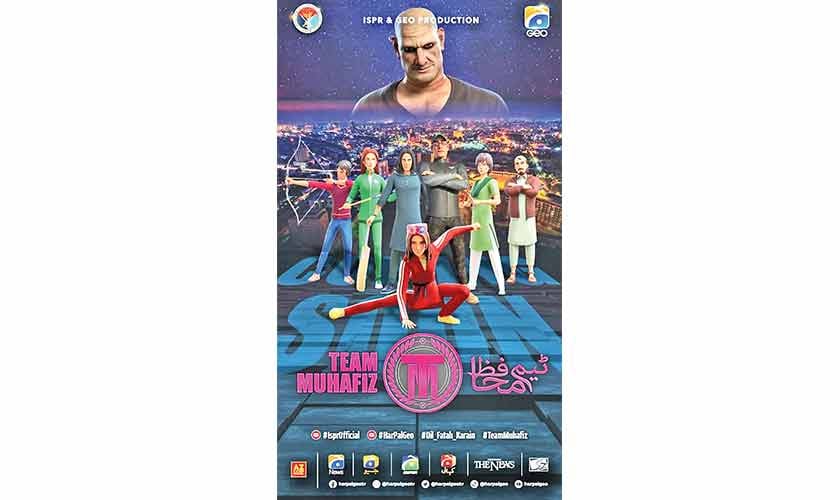 Meet the anime series superheroes, Team Muhafiz | Camber
it was a time when animation was barely considered a meaningful form of artistic expression on this side of the world; therefore, we have some anime productions to show. However, things are changing. There have been a number of animated films, such as Pakistan's first-ever 3D computer-animated film, 3 Bahadur franchise, created by Sharmeen Obaid Chinoy, Allahyar and the Legend of Markhor, And the list continues. But options are limited when it comes to animated content for TV.
It was in 2013 that Burqa Avenger hit Pakistani TV screens, which showed a superhero dressed in flowing black burka fight the bad guys. The series, created by singer and music composer Haroon Rashid, aimed to educate and entertain children. The good news is that an animated children's television series, titled The Muhafiz teamrecently aired on Geo TV in which some of our favorite actors lent their voices to the animated characters. The Muhafiz team is a joint venture between ISPR and Geo Productions which features the voices of Sajal Aly, Ahsan Khan, Nayyar Ejaz, Wahaj Ali, Dananeer Mobeen and Syed Shafaat Ali, among others.
This animated teen thriller, in association with AZ Corp, is based on powerful stories about brave and inspiring heroes. The project aims to highlight different community issues and point out various social ills prevalent in our society. Additionally, the goal is to educate the younger generation about extortion, drugs, the lumber mafia, child labor, human trafficking, and street crime. That's not all ! The animated production aims to embody the essence of our national ethos while instilling the values ​​of peace, progress and harmony in Pakistani children and youth.
Camber caught up with the main cast of the animated series to find out more about what they think of the project and the message they convey through their characters.
Ahsan Khan
The actor, who can currently be seen in drama series Dilnasheen, did the voiceover for havaldar Farmer. Ahsan Khan began by saying that this initiative by ISPR and Geo TV is just a first step in the right direction. "In Pakistan, there is hardly any content created for children, and I have always been quite vocal about creating programs specifically for children. I feel an anime series like The Muhafiz team is essential for our children so they can learn to solve the country's social problems while seeking inspiration from heroes who are both relatable and inspiring. He continues, "What's great about the project is that it instills the spirit of patriotism, and there's something new to learn from every episode. To be honest, I think this project should have 300 episodes instead of 10." Ahsan Khan further says that creating and celebrating our own heroes is very important for our future generations, as well as showcasing our achievements.
Sajal Ali
Sajal Aly, who is the voice behind the character of Parinaaz, says doing a voiceover requires vocal versatility and attention to detail. "It was like playing in front of the microphone, but there's no doubt that The Muhafiz team was a memorable experience for me," she says. Camber. With two episodes already released, the Alif The actress praises the entire team for coming up with the idea to create meaningful and educational content for kids. According to her, she had no idea that The Muhafiz team would become so popular as soon as it hit small screens. "I believe the anime series is a great initiative to enlighten our younger generation about our social values. I hope that more such wonderful projects will be done in the future as well.
Wahaj Ali
Actor Wahaj Ali is the voice-over artist behind Reza's character. He shares that when the creators of The Muhafiz team approached him for this project, he couldn't help but say yes. "The fact that the animated production was aimed at children made the project more interesting for me," Wahaj reveals. Highlighting the lack of children's content in the entertainment industry, the actor recalls that there was a time when interesting but educational programs for children were broadcast on PTV, but now there is hardly any content left. for children. "Due to the lack of local programs, our children are more inclined towards foreign content. However, The Muhafiz team is a great effort that faithfully reflects our values ​​and educates children about serious issues using intriguing storytelling techniques," Wahaj points out.
One thing is certain is The Muhafiz team is indeed a unique project aimed at providing inspiring yet relatable superheroes to our children. There are characters from all regions and ethnicities of Pakistan. With high-end 3D animation and top-notch voiceovers, this anime series is receiving rave reviews from audiences. Stay tuned for more exciting adventures!