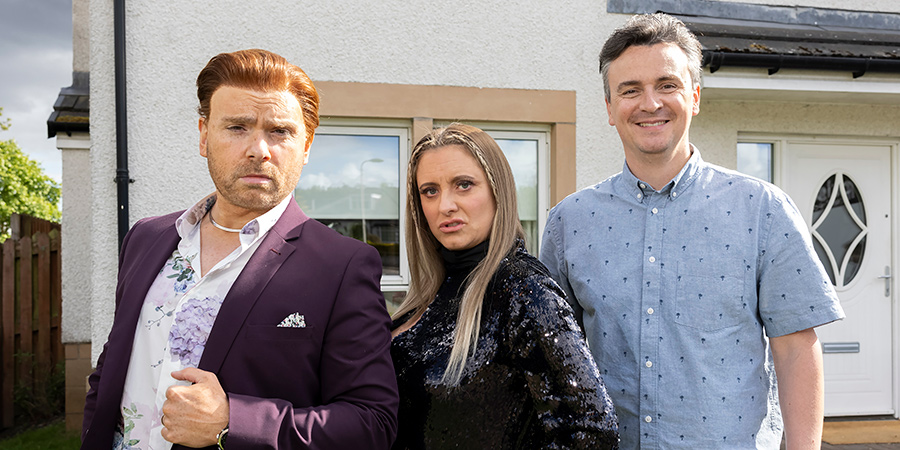 The Scots are back for Series 2 – News
The Scots. Image shows from L to R: Vincent Scott (Robert Florence), Colette Scott (Louise McCarthy), Henry Scott (Iain Connell)
The Scotts return for a second series.
Filming for other episodes of the BBC Scotland sitcom will begin next summer, according to the British Comedy Guide.
Written by and starring Burnistoun creators Robert Florence and Iain Connell as Vincent and Henry, brothers with a strained love-hate relationship, five episodes of the reality show parody their dysfunctional family airing on the BBC Scotland and BBC One Scotland this fall.
Starring Louise McCarthy as the couple's sister, Colette and Sharon Young and Shauna Macdonald as their wives Laura and Vonny, the comedy also stars Lee Greig, Barbara Rafferty and stand-up Jamie MacDonald.
"Writes S2 from The Scotts with the great Connell and every time we talk about scenes from Warhammer he accidentally calls it Warcraft," Florence posted on Twitter. "I can't help but think how much [The Witcher star] Henry Cavill and I would laugh if he rushed to agree to be my mate. "
Series 1 of the comedy ended with Florence and Macdonald characters Vincent and Vonny renewing their marriage vows.
Florence, McCarthy and Rafferty will next be seen on Hogmanay alongside Still Game creator Greg Hemphill on the BBC One Scotland sketch show. New year queen. And Florence, who recently led E4 Game master revival, reunited with the Scot Squad star McCarthy in 2022, in the National Theater of Scotland theatrical adaptation of Peter Mullan's cult classic comedy film Orphans.
Meanwhile, as BCG revealed in September, Florence and Connell are writing a Burnistoun movie spin-off based on their characters Peter and Scott. Florence is also developing Nogaku, a psychological thriller starring "Brian De Palmaesque slasher film elements to it" starring stand-up and producer Ross McCarthy, with whom he worked on the BBC's sketch show Scotland The State Of It.