Watch: Three American Writers See Malta As An Ideal Setting For Mystery Novels
Three American writers who were in Malta for a week at the invitation of the Malta Tourism Authority say they see Malta as a great place to base their thrillers.
Chris Kuzneski, Boyd Morrison and Graham Brown said they were overwhelmed by what this small country has to offer.
"I was blown away. It's really, really beautiful and everyone I have met has been extremely nice. It has been just wonderful, "Kuzneski said.
The Florida-based writer was the first to be contacted by the MTA after an enthusiastic reader alerted him to Kuzneski's mention of Malta in a series of his books, despite the author not having never been here.
Kuzneski told The Malta Independent that a Maltese writer contacted him after the publication of one of his books and, intrigued to see his book read in the heart of the Mediterranean, decided to mention it in his next one. publication. After receiving emails from other Maltese readers, Malta has been mentioned in each of her books.
Morrison, of Seattle, and Brown, of Phoenix, were then also invited to the trip, and both praised Malta. The three were taken to visit the archaeological, historical and scenic sites that are part of the Maltese tourism product, and their visit ended with a busy book signing, all organized by the Malta Tourism Authority.
"It's an incredibly energetic country," Brown said. "People seem to be very proud of what happened here, whether it was the temples, the history, the defense during the various wars, holding on to their own language and making their own. own thing in a very real way. What I can see is Malta and the Maltese forging their own identity in a world where many places become the same.
"It's amazing," added Morrison. "The amount of history and scenery here is incredible and everywhere we go this is another perfect site to see."
The probability now is that Malta will have a greater presence in the future books of these three writers. "Every time I put Malta in my books, I think about what more I can do," Kuzneski said. "It could be an archaeological mystery with something to do with Malta, or maybe the villain of a story lives in Malta and the team comes here to look for him and there will be chases in the streets. I definitely have a few ideas running through my head and the more I am here the more ideas I will have, and Malta will certainly appear in the pages in the future.
Brown said it would be crazy not to see Malta as a place where a story can unfold. "Whether it's a historical book set in one of your times in the past or whether it's a modern book where the characters live today" are just two ideas. "We visited the port of Valletta and there are several fantastic ideas on how to use this story and these scenes to make them come alive for the readers."
"I have already had a number of ideas on how to present Malta because there is so much history. I present a lot of history in my books, I can already see how I can do it. I also write action thrillers, so there are a lot of good places like the narrow streets of Mdina, "Morrison said.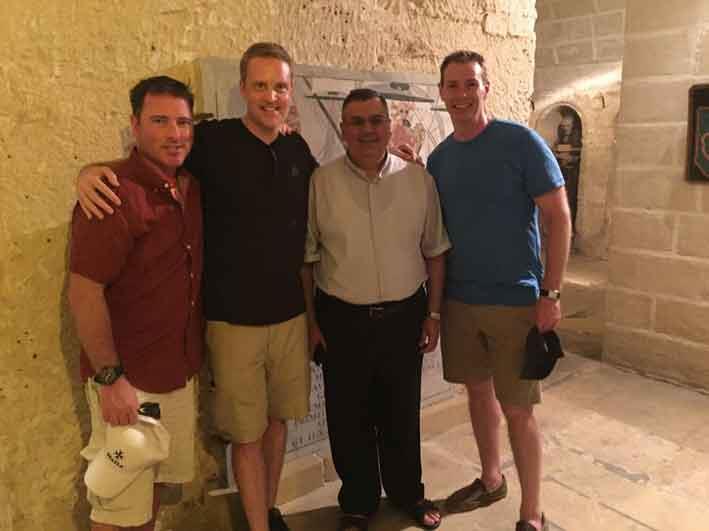 Author of 10 bestselling books, including Sign of the Cross, The Prophecy and The Hunters, Kuzneski said he has always been fascinated by writing. "When I was little, I always had books at home. My parents have always loved to read and from an early age I loved to tell stories. In fifth grade I wrote a book called The Monster's Cookbook and it was so impressive for my teacher that she had it bound and put in the school library. Unfortunately, I fell into a serious crisis and didn't write another book for 20 years, but I always wanted to be a writer and to have the chance to do it now for a living is a dream come true ".
From now on, one of his books will become a film. Filming for The Hunters will begin in the next few months, with the film slated for release in late 2016 or early 2017, and Kuzneski is hoping it will be the first in a long series. "The first book (in The Hunters series) was opted out and the producers who picked the book actually like the second book in the series even better than the first. The goal is therefore to film a sequel. The producers have read a first draft of the third book and they're thrilled with it too, so hopefully this will be the first in a long series.
Morrison and Brown had a different experience, co-writing books with the legendary Clive Cussler.
Brown, whose book The Storm, co-authored with Cussler, debuted at the top of the New York Times bestseller list in 2012, said he was extremely nervous when he met Cussler for the first time. "He made a few jokes and made me feel at home and we just sat down and started working. I don't know what it's like to work with someone else, but it makes it fun and interesting. He has a way of imparting knowledge to you without you realizing that is what he is doing. We have these brainstorming sessions in his office and we sit down and talk about ideas. I try to impress him because basically he's the boss and what's going to happen is that I launch an idea, he will launch an idea … we always try to outdo ourselves. Usually it's a lot of fun, but it's also frustrating because no matter how good my idea is, it always has a better one.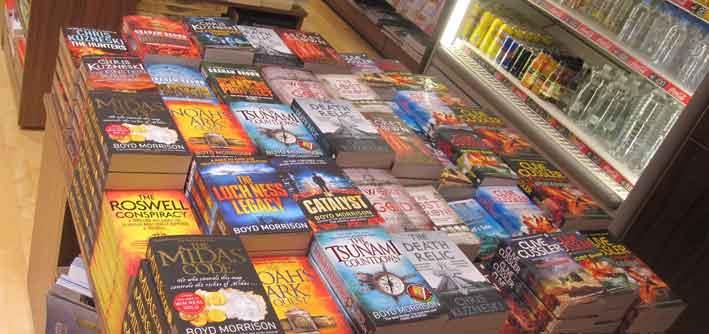 Like Kuzneski and Brown, Boyd says Cussler is the writer who made him fall in love with thrillers. "I've read his books for 35 years and he's the one who got me interested in reading and writing thrillers in the first place. It is an honor and a privilege to work with my hero. He's a great guy, a legend in the field and a master of thrillers and I love working with him.
But breaking into the book industry is not easy. "I never thought I could be a writer," Morrison said. "I've always loved thrillers but it took me a while to realize that I could make my own story and so when I got the idea to write I made a deal with my wife. I wanted to write full time and she wanted to go to medical school, so I gave her nine years of medical school with the agreement that when she was done I would quit my job and have nine. years to become a published author.I did it in five years.
Brown always wanted to be a writer, but it took him 15 years to publish his first book. "I had other careers before I got to work and started writing. I started as a pilot, spent four years learning to fly, then couldn't find a job, so I decided to sit down and write a book and thought that it would take about a year and i would be rich. , drive in one of the yachts there and … 15 years later I finally got a publishing deal. So it was a long way but it was awesome. Brown also worked as a lawyer before becoming a full-time author.
Staying on top is not easy either.
"It's very difficult to break into the writing world," Morrison said. "It took me three pounds. I wasn't published until my third book, but eventually came back and published the first two books I wrote. But staying published is no guarantee. You must continue to deliver with each book; otherwise you will not continue to post.
For Brown, "everything is difficult whatever you do in life and those two things are just as difficult. I think it's easier to get motivated at first because you're so excited to do it. The greatest danger is to become complacent. You are not doing your best job and sooner or later everyone will notice. I think that's the difference between climbing a mountain and walking along the top. If you slip, you'll fall just as badly anyway.
Video Paul Jones and MTA